Our Funding
The Boston Center for Endometriosis is entirely funded by philanthropy. It is the kindness and generosity of donors who are committed to eradicating endometriosis that motivates our team to work diligently to find a cure.
We would like to extend special gratitude to the J. Willard and Alice S. Marriott Foundation for their inspirational philanthropic support and vision, which led to the development of our new Boston Center for Endometriosis. Through their generosity, and that of many other caring donors, we are able to provide exceptional clinical services, research, and education for adolescent and adult women with endometriosis.
Many thanks to everyone who has contributed to this endeavor.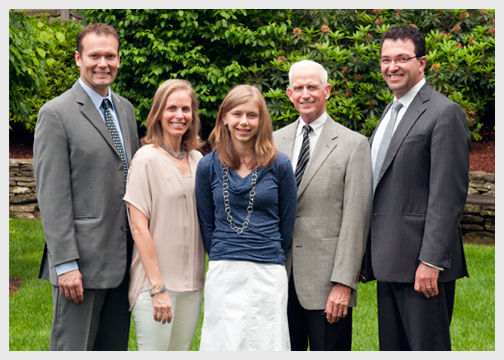 Pictured: Jess Hatch, Mary Alice Hatch, Emily Hatch, Richard Marriott, Dr. Marc Laufer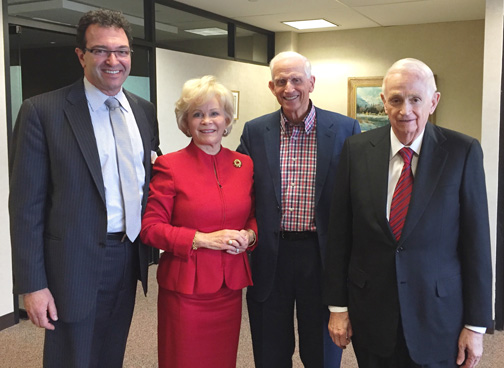 Dr. Marc Laufer (left), Director of the Boston Center for Endometriosis, visited with Nancy Marriott (middle left), Richard Marriott (middle right), and Bill Marriott (right) in December 2015.
Latest Updates
August 2017 – Boston Center for Endometriosis founder and Director, Marc R. Laufer, MD, announces the addition of a major donation from The J. Willard and Alice S. Marriott Foundation in support of the Center's ongoing research program. This three-year award is a continuation of support from the Marriott family.
The gift will be used to support the Center's major research project: building a one-of-a kind biorepository and database to fuel discovery in endometriosis from adolescence through adulthood. The gift also establishes the Marriott Fund for Clinical Innovation in Endometriosis which will support projects aimed at faster diagnosis and improved treatment for young women. Dr. Laufer describes the Marriott family's support as "an extraordinary partnership that is advancing the field, helping us find new diagnostics, new treatments and hopefully a cure. With the Marriott support we will intensify our efforts to improve quality of life and preserve future fertility for girls, young women, and adults with endometriosis."  Scientific Director, Stacey Missmer, ScD, added that "being able to continue to connect with girls and women with endometriosis as they experience new successes and challenges is invaluable to determine how to ensure that their dreams can be big and can be achieved."
The Boston Center for Endometriosis was founded in 2012 through a gift from The J. Willard and Alice S. Marriott Foundation. The Center is committed to providing exceptional care, research, and education.