Our Funding
The Boston Center for Endometriosis is entirely funded by philanthropy. It is the kindness and generosity of donors who are committed to eradicating endometriosis that motivates our team to work diligently to find a cure.
We would like to extend special gratitude to the J. Willard and Alice S. Marriott Foundation for their inspirational philanthropic support and vision, which led to the development of our new Boston Center for Endometriosis. Through their generosity, and that of many other caring donors, we are able to provide exceptional clinical services, research, and education for adolescent and adult women with endometriosis.
Many thanks to everyone who has contributed to this endeavor.

Pictured: Jess Hatch, Mary Alice Hatch, Emily Hatch, Richard Marriott, Dr. Marc Laufer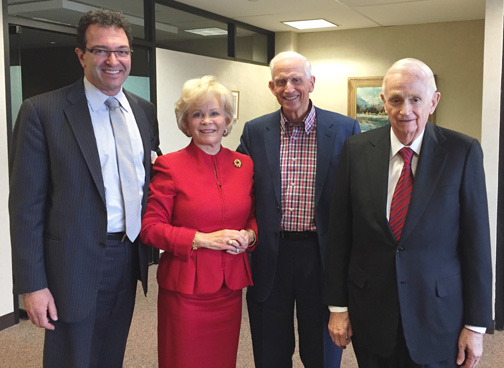 Dr. Marc Laufer (left), Director of the Boston Center for Endometriosis, visited with Nancy Marriott (middle left), Richard Marriott (middle right), and Bill Marriott (right) in December 2015.